Mukkabbaz
&nbspPosted 2018/02/0814740
---
Cast: Vineet Kumar Singh, Zoya Hussain, Ravi Kishan, Shree Dhar Dubey, Jimmy Shergill
Direction: Anurag Kashyap
Producer: Anand L. Rai, Vikramaditya Motwane, Madhu Mantena, Anurag Kashyap
Writer: Anurag Kashyap, Vineet Kumar Singh, Mukti Singh Srinet, K.D.Satyam, Ranjan Chandel, Prasoon Mishra
Genre: Drama, Sports
Duration:145 Mins*
Anurag Kashyap's inner Gorakhpuri was definitely in the awakening when was shooting Mukkabaaz!
I for sure can say that this was the Kashyap we were missing!
Mukkabaaz is a story of a boxer or maybe we can say of a guy who's ambitious about being a boxer. Sharvan Kumar Singh (Vineet Kumar Singh) refuses to be the run-of-the-mill person to Bhagwan Das Mishra (Jimmy Shergill) and crosses swords with him. Bhagwan Das is the only guy who could give a kick-start to Shravan's boxing but it becomes more intricate when he falls in love his niece.
There's romance, drama, action, bureaucracy, you just name and it's there! Bhagwan Das is a high caste Brahmin who thinks of himself as an ethnarch taking decisions for everyone and in everyone's life. He made sure that Shravan will not be given a chance to play in until he's taking his last breathe and not in his district. And on the other side, his love for Bhagwan Das's mute niece Sunaina stokes the insurgency in him.
The beauty is Kashyap's way of paying attention to tiniest details. The manifestation of the real UP where anger is thronging over, Vineet Kumar Singh not for even a second made feel me feel that he's not into it. And what Jimmy Shergill has delivered as a villain is not bad. As we've seen him like that for years now! Ravi Kishan as Shravan's coach was great. Though we expected more of him on screen. Zoya Hussain as Sunaina who's a small town girl from Bareilly a mute girl is remarkable. The background score is so captivating. The songs "Paitra" rapped by Divine and "Haathapai" just add up more to the situation, building up more anger. The dialogues are top-notch! "UP ke Mike Tyson hai hum", "Aap haiee ka hi DNA hai Humre mein"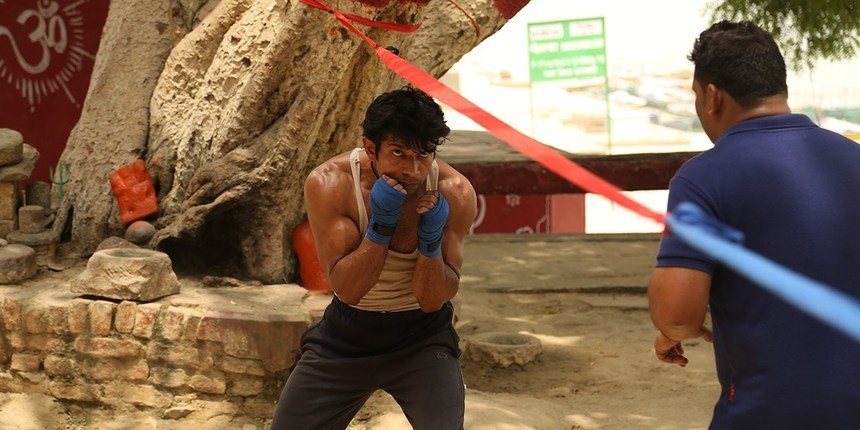 Overall the movie was entertaining throughout, but there's a moment in the movie when the melodrama becomes too much to look at pace becomes is slow. Kashyap hasn't left a stone unturned when it comes to revealing the harsh truth about the sportsmen in our nation especially in UP where casteism makes it even worse. There's a moment when Bhagwan Das asks for water in another jug as soon as he gets to know that Sanjay Kumar (Ravi Kishan) is Harijan by caste.
Also when it comes to women, how several districts and small towns in UP where they think that a woman's decisions and their lives are of no significance. Girls can be married off wherever for their own greed, ego and pride just like shown in this movie. Kashyap's movie was a straight clout in the face all those casteist corrupt men in the governing bodies and we need more of such cinema in our country.